More repeating event choices
Support more types of repeating event frequencies, such as more than once a week, quarterly, every other month, specific months of the year, etc.
Merged in a post:
Event/ repeats Quarterly option
When creating events allow for Quarterly "repeats" in addition to existing annually/monthly/biweekly etc... options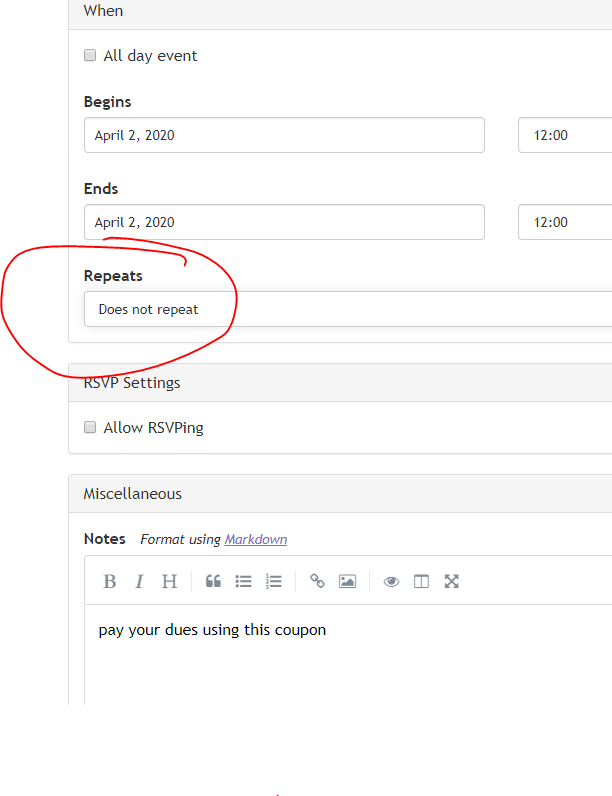 Merged in a post:
Recurring Calendar Events
Need ability to repeat an event on more than 1 day. OR Ability to copy an event from one day to another so you don't have to totally retype it.
Merged in a post:
Repeating Quarterly Events
our HOA meets the 3rd Tuesday every quarter. with the current event scheduling feature, i'm unable to schedule this using any repeating feature. Please add a way to schedule this either annually or quarterly
Merged in a post:
Provide quarterly option for recurring events
Merged with autopay. This should have been merged with more "repeating event choices." It had almost nothing to do with autopay. I simply want to have "quarterly" as a recurring option on calendar events, so we can tag assessments due quarterly.
Merged in a post:
Make a Calendar item repeat quarterly
The dues for our HOA are due quarterly and I am trying to add that as a repeating event but that option is not available. Could that be added please? Thanks.
Merged in a post:
Quarterly option for recurring calendar events
When creating a recurring event, include the option for it to occur on a quarterly basis.
Merged in a post:
Schedule events based on days of the week
Schedule events based on days of the week, like first Thursday of every 3 months